Success Fast Track (5 weeks)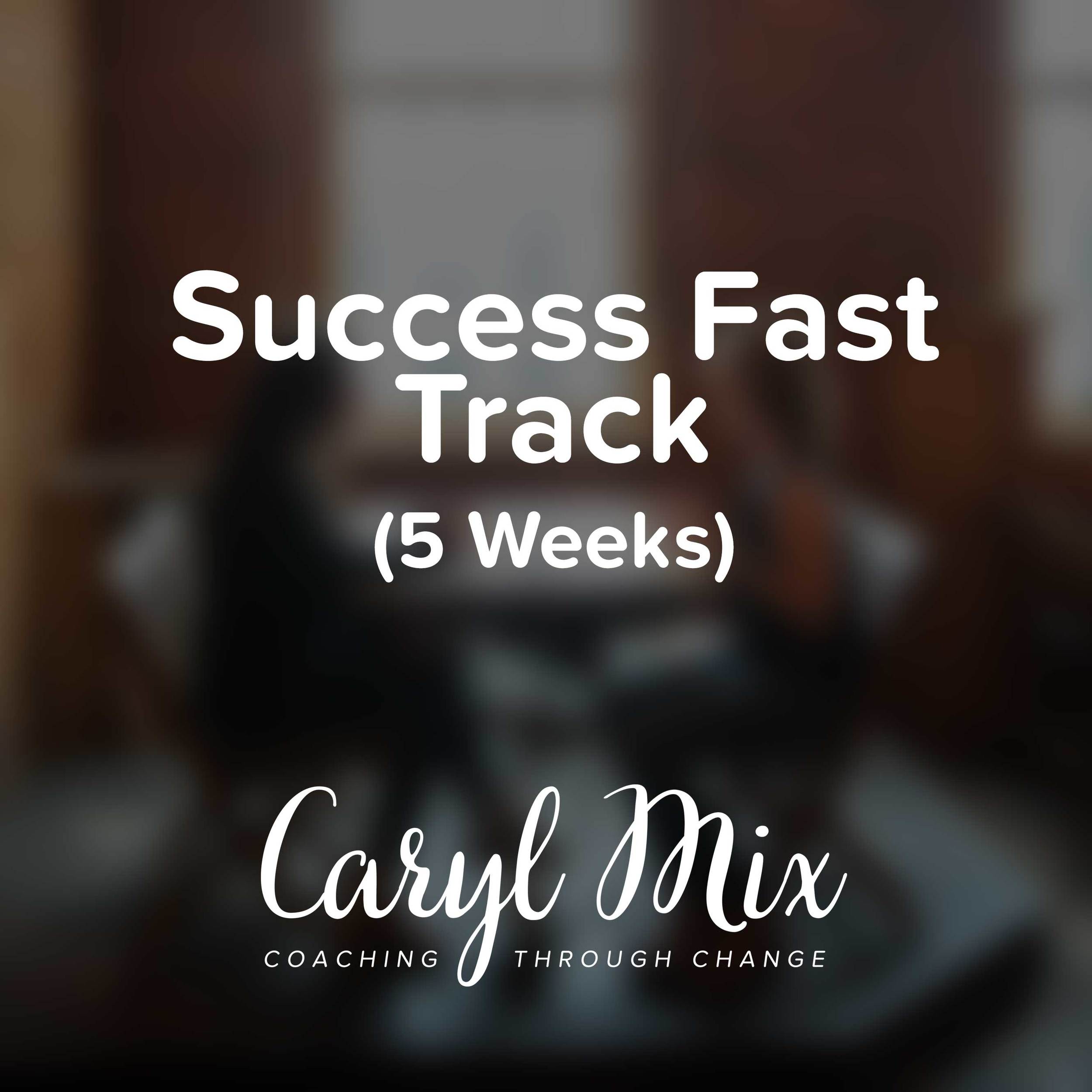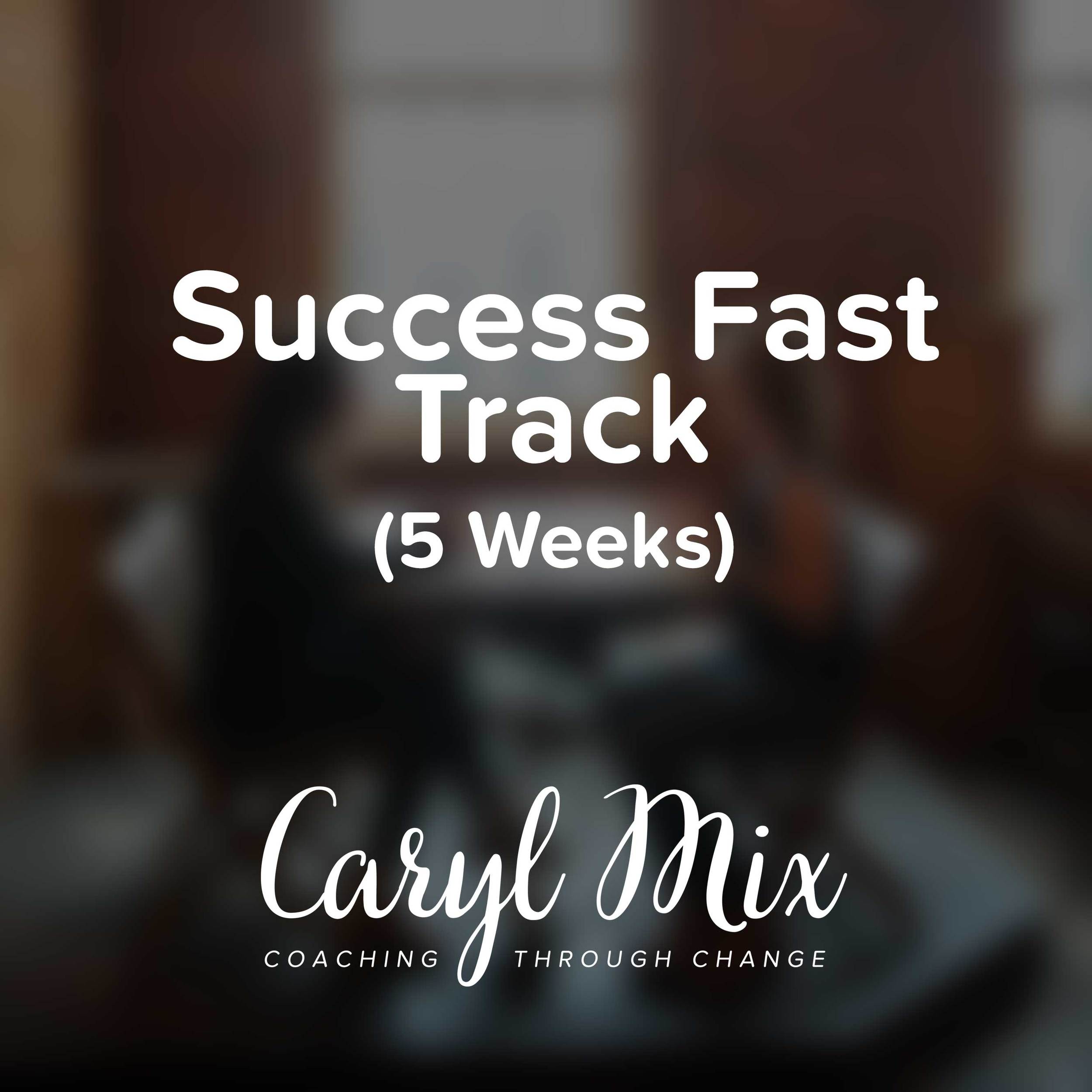 Success Fast Track (5 weeks)
You set goals and typically start out strong, but find that after a few weeks you give up or fall right back into the same old routine. You've had success with some goals you've set, but find your results to be inconsistent. You find that you are living more reactively than proactively. What you really crave is a system that will allow you to move quickly through your goal but allows you to see exactly where you need to get back on track when life sidetracks you.
Who you are
You are a busy woman in the thick of building and creating your life. You may own your own business or work full time or outside of the home all while taking care of other's needs. You are smart, work hard, are loving and caring, to a fault almost, as you are always taking care of everyone else's needs first. You have it pretty good, but something is missing. Your biggest need right now is nap… (just kidding☺) What you long for right now is balance and a way to juggle everything and feel happy all at the same time. Your can do attitude is driving you to look, search and want to find yourself while finding a way to live happily and joyfully, all while being able to meet the demands that everyday life requires…but mostly you are looking to feel content. You're not afraid to do the work, but sometimes you are too tired. And sometimes it feels really uncomfortable or even selfish to think of what you want (especially when it is simply just fun for yourself and in your own way) when everybody else has so many other needs that need to be managed.
What your challenges tend to be
You set goals but have difficulty following through, have no system to follow and just give up. Sometimes you don't believe you can reach the goal and often times, don't even bother to set personal goals, as there is no energy left at the end of the day. All of this is creating an underlying stress in your life, but the answers evade you. The idea of doing everything on your own without support of a system is overwhelming. You have what it takes to learn a new way, ever curious, but simply don't know the best place to start. There is a lot of energy going out but it feels like you are moving further and further away from yourself. You may even be asking yourself, "Who am I anymore? or What do I even want for me?" Lacking time and space for yourself leaves you feeling disappointed, fed up, frustrated, hopeless and at times, lonely. Being totally honest, right behind those feelings is resentment, guilt and feelings of being selfish if you do think of moving yourself on to the priority list because it has been so long since you have put yourself even on the priority list.
What you need most right now
Your primary focus needs to be on getting crystal clear on what you truly want for yourself. The idea of "life balance" is simply an illusion. There's no such thing, really. But there is Inner Balance. Balance that is within yourself. There are ways to meet your inner most needs and desires while still tending to the needs of others that we love and that are in our lives. We can begin to show up for ourselves, the same exact way that we show up for everyone else. We can do more and be more than just going through the motions of every day, playing a role and feeling unfulfilled. It's important to get strategic about how you can find your core self and live your life proactively as oppose to reactionary. At the same time, it's equally important to set specific goals and follow through with them to create the self-confidence and discipline that is a result of pushing through and finally seeing our own goals through. You will leave behind the disappointment, overwhelm and empty feelings, see a greater overall outcome in every area of your life, for your family but most importantly, for YOU.
The Success Fast Track is designed to give you the proven, step-by-step goal setting fundamentals you need to see any goal through, in any area of your life, teaching you how to get back on track when life sidetracks you, creates the time and space that you NEED to finally do something just for YOU, while creating a solid, no-fail action plan to follow.
The Success Fast Track is an easy to understand system made up of 5 classes, complete with worksheets to help you dive deeper into each module. We will be working on:
 
Clarity- Become clear on exactly what you want and prioritize what you really want. When you are no longer scattered, you will be able to clearly decide what you want and need and can begin living proactively instead of reactively.

Commitment- Learn how to integrate your goals into your calendar and your life, as well as examining your personal standards, allowing you to see exactly what is draining you and how to ditch it. When you commit to start showing up for yourself and raising your own standards, you will begin to create personal accountability, begin making yourself a priority, and have more of what you want in your life.

Connection- Begin to reconnect with the part of you that was lost along the way. Trust me, you're still in there. Discover how you truly want to feel and bring that into your life every day instead of waiting until you finally accomplish…. fill in the blank. Nobody's got time for that!! Why wait? Start feeling the way you want to feel right NOW.

Consistency-Determine which habits and rituals are bringing you closer or further away from what you want and need in your life. We are made up of our habits; and some of them are killing us.....when we begin to see where we are strongest and where more work is needed, we can then begin to fill in the gaps and create a solid foundation for showing up for ourselves...even when your motivation is at its lowest.

Celebrate- Learn how to slow down enough to take a look at where you've been, how far you've come and where you're going. This critical step not only helps you to see what where you were successful in the past, but also shows where you can fill in the gaps for continued success, as well as building the self-confidence to know that you can achieve any goal, again and again.

 

You will also receive four new mindset shifting strategies to help you quickly shift your mindset as you discover new roadblocks or uncover the old ones that have been in the way of your success in the past. These tools alone are worth the value of entire program alone, just because they truly change how you have been looking at and experiencing the whole picture. Your classes are delivered weekly and each class builds onto the next. You have a full week in between to work with your new shifting strategy and the module work as well, allowing you time to integrate the coursework into your life. The sessions allow enough time to easily fit into your schedule and worksheets allow for creating the space you need to think through and create exactly what you want.
While working with me as your accountability coach, you can rest assured that I will keep you on track as well as be there to listen, guide and cheer you on to the next level. Your weekly sessions will allow you the dedicated time that is needed to focus on strategizing, gaining clarity and creating the foundational pieces needed to develop your own personalized success system.
Ready to enroll and feel your results?
If you're ready to stop quitting on your goals, hell, if you're ready to stop quitting on yourself and start creating the inner balance that you need to start living a happy, content, satisfied life… if you are ready to create a personal success system that will allow you to know exactly what is missing and where you need to be, every single time you set a goal, then the Fast Track is the program that is just right for you!
Decide. Commit. See It Through!
Cost of Investment
$997 in full or
$97 deposit
2 payments of $450
Ask me how you can turn the Fast Track into your own personal Mastermind Group.
The dynamics of the Fast Track in a small group are amazing!
Group rate will apply.